<NextRise 2021, Seoul> in Numbers
300+ exhibitions & IRs, 2,000+ business meetings, and 100+ conference sessions were held.
10,000+ attendees joined our event offline despite strict social distancing rules, a testament to the growing influence and popularity of [NextRise, Seoul].
2,000

with Corporates & VCs

100

by Global Corporates,
VCs, and Experts
Conference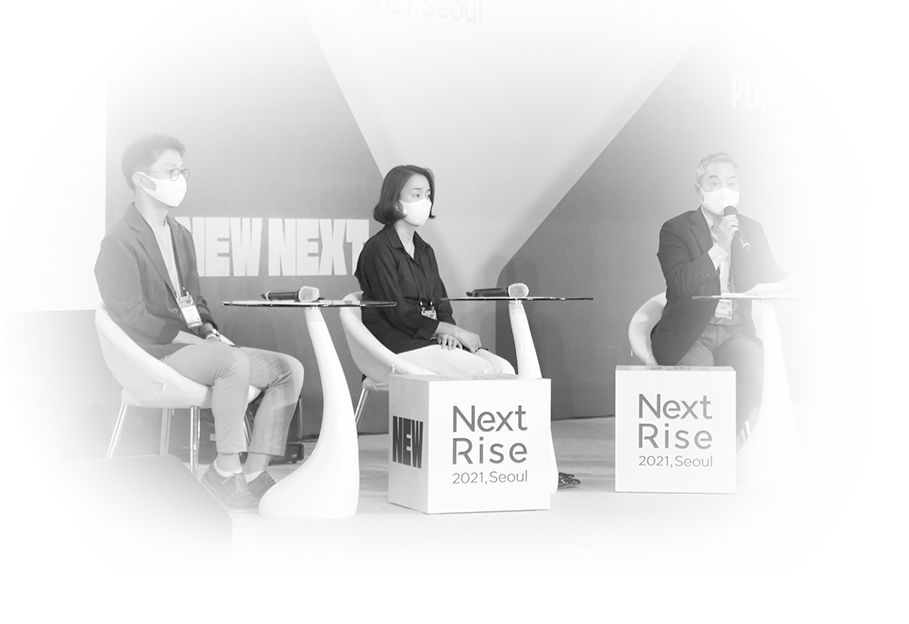 NextRise Presentation
NextRise is a global start conference/exhibition-designed to
connect top-notch player in the global startup ecosystem.

More than 10,000 participants are expected to attend,
networking with Global MNCs, VCs, Accelerators, and
Startups from all around the world.
Program Summary
NextRise runs various programs for the leap and growth of startups. Knowledge and experience are shared through exhibition booths of global companies and startups at home and abroad, on-site consultations with global companies/VC/ACs, and conferences with global companies and unicorn startups.
Exhibition

As in past years, NextRise will host Startup Exhibition, an all-inclusive expo to showcase innovation trends in this year. Emerging startups from diverse fields will come together to demonstrate the cutting-edge technologies.

Conference

NextRise will host on/offline conference spanning 6 different themes this year: ESG, Future Mobility, Bio/Healthcare, VR/AR/Contents, Blockchain/Fintech, and E-commerce, featuring numerous speakers including multinational corporations, venture capitals, startups and policymakers around the world.

1:1 Meetup

Meetups would be the best means to connect, seek out inspiration, and find collaboration opportunities across a wide range of industries. Any startup seeking for business collaboration with overseas / domestic global corporates or investment opportunities are welcome to be a part.

Workshop

New for 2021, NextRise will host all-day workshops in collaboration with global IT enterprises throughout the conference days. All developers, designers, and even small-scale e-commerce enterprises are invited to seek innovations within our workshops.